Custom House Maritime Museum Summer Concert Series: Liz Frame and the Kickers
We are pleased to bring back concerts on the Custom House lawn this summer! Pack a picnic, or pick up a delicious meal from a local restaurant and music from talented artists. A great way to enjoy a summer evening.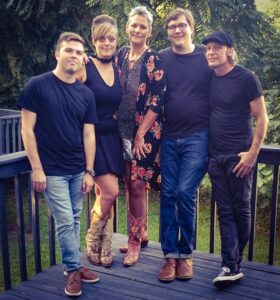 Liz Frame wrote her first song at age nine and has been performing her own brand of Americana music since her early teens. Her recent efforts have paid off in exciting ways — nights in prestigious rooms and strong praise from respected sources — as she wins the hearts and minds of audiences and industry professionals alike. Giants like Patsy Cline and Linda Ronstadt have been evoked while describing her voice, and her writing has been compared to acclaimed veterans like Dolly Parton and Lucinda Williams, among others. She is backed live by her band, the Kickers, a group of talented friends whose raw sound and sweet harmonies help to deliver her material with distinction. A prodigious writer, Ms. Frame released her first full-length recording, Sooner, in 2011 which drew strong praise and consistent airplay, followed by the ep, Justine, which continued to highlight Frame's skills as a singer and songwriter. Her 2018 full-length release, Sparrow in a Shoebox, charted on the Americana Top 200 list, and her 2021 release, Firefly, has continued to win her new fans.
Date and Time
Sunday Aug 21, 2022
4:00 PM - 6:00 PM EDT
Sunday, August 21st, 2022
4:00 - 6:00 pm
Location
Custom House Maritime Museum
25 Water Street
Newburyport, MA 01950